Linda Bruner Songs For A Friend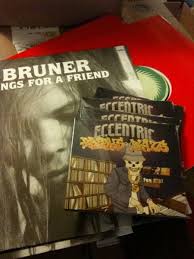 These six cuts, five doleful reinterpretations and one self-penned pastoral love song, are the last of Linda Bruner's known recordings. The sessions, an aching set of missives "to a friend," took place in the back of Nielsen's Music Store and was captured by a modest portable half-track borrowed from A.L.S Studios. Unrehearsed and raw. Linda chose songs she knew and fell deeply, allowing Pisces' guitarist Jim Krein to fill acres of space between the lyrics with his accoustic guitar.
The heavy, almost desperate tone of these readings suits the Linda Bruner that her classmates and friends at Harlem High School recall. A poor kid from the depressed Loves Park suburb. Bruner was a girl who barely escaped from a tract housing development as rudimentary as her own vocal style. Friends have recalled her feigned rural Southern upbringing as Linda's way of publicly reconcilling her own coarse manners. But at just 17, she shuffled into Neilsen's 7th Street storefront, slouching toward the chance to privately document her exceptional talent.
The impromtu tracking is thought to have accuurred between Bruner's studio work with Pisces. Krein and Paul DiVenti's Rockford, Illinoise psych-rock outfit, and the release of her haunting "Sam" b/w "Oh Lord" 45 on the local Vincent Imprint. The label's mishandling of her recorded debut left Bruner disillusioned enough to abandon most of her musical ambitions, so it's hard to call any of these morose renditions anything more than a feeling moment of creativity. Bruner's pained delivery drags any shred of pop sensibility out of each future classic. Infusing every chorus with new, darker vitality. She sounds comforted only by love's sheltering embrace on her lone untitled and original ballad allowing it to roll through its imperfections, bits of banter, and hiss. Even Krein's benevolent voice can be heard, as it coaxes Linda's pleadings along. If her disconsolate pop recreations reveal a tormented songbird soaring toward the edge of despair. It's only affirmation of what little we know for sure about Linda Bruner, now long lost.
Linda Bruner Songs For A Friend Track Listingcreations reveal a tormented songbird soaring toward the edge of despair, it's only affirmation of what little we know for sure about Linda Bruner, now long lost.:
1. Songs Linda Wrote Herself
2. Wichita Lineman
3. Thorn Tree In The Garden
4. Georgia On My Mind
5. Don't Let Me Down
6. Rainy Night In Georgia
Billie Nash
Pisces
Linda Bruner